It is getting harder and harder to be a responsible shopper. You try and pay attention and only buy products and food that is safe, healthy and not full of crap. You try and buy meat and poultry that come from responsible producers and now we discover that all of our efforts to buy environmentally sound seafood has got a
fifty/fifty chance of not even being the kind of fish we think we are buying
.

Oceana, an international ocean advocacy group, has released a report on national seafood fraud [PDF], and the results are disconcerting. The report, which is one of the largest on seafood fraud to date, found that one-third of fish was mislabeled. Oceana performed DNA testing from 2010 to 2012 on 1,215 fish samples from 674 retail outlets in 21 states. In this study, Oceana found seafood fraud everywhere it tested, with rates hitting as high as 52 percent in Southern California.
Here is the breakdown: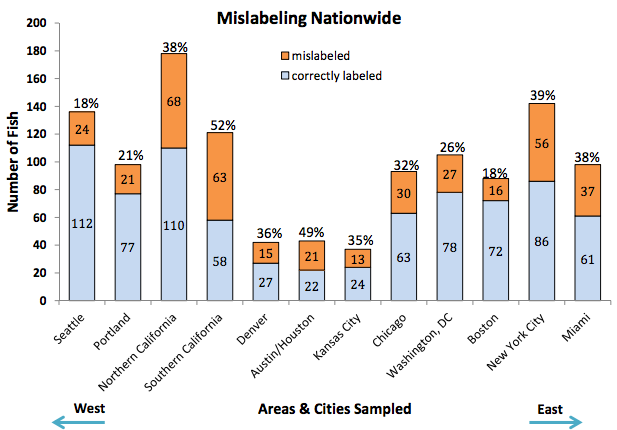 You really need to read the article. One thing I'm wondering is if this applies to both fresh and frozen seafood as it doesn't really specify in the article. The article does say that the number one offender is red snapper with tuna as the followup. Of note is that tuna is evidently be substituted by escolar which is known to contain neurotoxins.